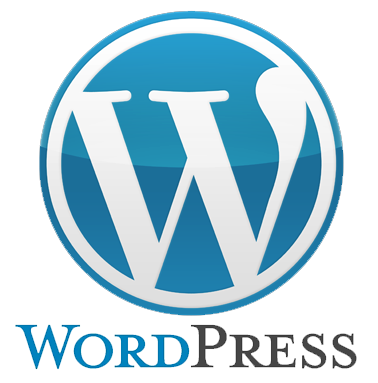 Systems and Delays setting up a game publisher.
Well one of the parts of becoming a publisher is having your systems in place. Sometimes this means systems and delays. For example, you may have noticed the site changed appearance, and it slowly changed on all the pages. We had to transfer to a new hoster because our previous one had absolutely terrible support and were blocking search engines from indexing content on our site.  So I thought I'd give you a bit of a view into how this has all gone.
Domain
I believe that if you want to appear professional in this modern world, you really need to have your own domain name. Yes, you can continue to use me@gmail.com, or outlook.com or whatever, but having your own domain name really helps. It adds a level of commitment to your work, and it's easier to remember.  We obviously have CravonStudios.com. We went so far as to make sure that our associated social media channels are the same. Twitter is @CravonStudios the FB page is facebook.com/CravonStudios, Instagram is instagram.com/cravonstudios. Let's see if you can guess what our alias is on Reddit? If you know my name, you know my email address. In the internet world your domain name becomes a significant part of your identity.
I manage all of my domain names through GoDaddy.com. They may not all be hosted with the same web hosting company, but I can manage them all from that central location. Hopefully you only have to manage one, but I've had previous lives.
Web Site
For our little web site we use WordPress. It's great for blogs, having pages for games, and there is an excellent plugin for it called WooCommerce for selling the games online through the site. Getting WordPress itself setup is pretty easy. Most hosters now have push-button installations of WordPress available. You can also go directly to WordPress.com and set one up there which is really easy. The trick is getting it themed. There are literally thousands of themes available for WordPress. Most of them have pretty extensive customization options as well. For example this theme is Parabola by Cryout Creations.
Parabola has extensive customization, as well as a graphic slider on the home page and multi column layouts. This makes getting an attractive site up and running much easier without knowing a lot of code. With all of the plugins available you can also add functionality pretty easily from the plugin catalog available directly through the WordPress control panel. There are a couple you will absolutely want to have.
You will want a paid version of Akismet to help block some of the comment spam you will get. It's inevitable, there are bots and spiders that people have written to comb the internet for WordPress based sites, and automatically submit comments. I've even heard of people being paid to do this. Now they won't show up until you approve them, but that means you have to go in and kill off several comments a day, dozens in some cases. Akismet helps cut that down.
Another one you will want is a Search Engine Optimization plugin. We happen to use Yoast SEO. It's not so much that it automatically plugs your site to the search engines, but it helps coach you to create good content, use good keywords, and make sure you have Alt text for your images etc. The free version is already a great help but the Pro version goes that much further in making sure your content will rank highly when people search for relevant keywords on Google, Bing, and Yahoo.  The Pro version even helps with Facebook and Twitter.
If you plan to sell your games on your site, you'll want some kind of ecommerce plugin to handle the catalog, shopping carts, collecting shipping info and plugging in to things like PayPal. In our case, we chose WooCommerce.  It has the best ratings, and a great feature set that suites us just fine. Now we won't enable this until our games go on sale in October of 2017, but the system works wonderfully. The seamless plugin to PayPal is a real winner. Speaking of which, what about payments?
There are lots of books on WordPress that you should check out.
PayPal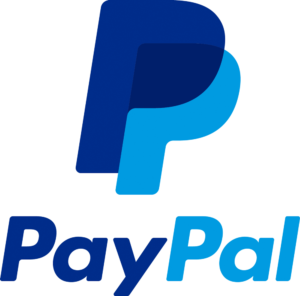 PayPal is one of the most well-known payment systems on the internet today. With it, you can accept payments from just about anyone with money. The only thing you can't do is accept cash over the internet. (Bitcoin anyone?) With PayPal, even if your customers don't have a PayPal account, they can use the PayPal system to use their credit or debit cards. For you as a seller, you don't care. You don't have to worry about what actual format of currency they used, you just get paid into your PayPal account, or directly into your bank account. This makes it so much easier.
What this really saves you is the absolute pain of becoming what is called a Card Data On File Merchant. That means setting up your own Merchant account with a bank, signing up with the credit card companies to process and store credit card data and all of the security problems that go along with that. You do not want to do this. You want PayPal to go through all of that pain for you. And in return, you give them 2.6-3.6%. (https://www.paypal.com/au/webapps/mpp/paypal-seller-fees )
But what about getting paid in person you ask…no really, I'm sure I heard someone say that. Well, PayPal has their own credit card terminal that you can buy at your local office
supply store. This connects with their payment system called PayPal Here (https://www.paypal.com/au/webapps/mpp/credit-card-reader )  that you can download as an app on your phone. So when you are at a convention, you can accept credit cards, or cash. If you get a cash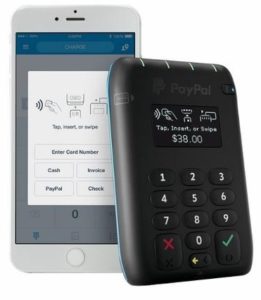 sale, you simply enter the amount into the app on the phone and it records it as a sale with full receipt capabilities (SMS or email) and this can be synched with your accounting system like MYOB, Xero, QuickBooks, Quicken, etc.
There are also many Point Of Sale (POS) systems that work directly with PayPal such as Vend. Vend is an iPad based POS system that tracks inventory, sales, returns, and many other retail outlet type items. In our case, we don't use iPads, but we don't' have to. We can set up our games and product in the PayPal system so we just tap a game, or a bundle and take the payment. However, the PayPal system alone won't do inventory tracking. So if you have a need to do inventory tracking, you might need to check out a POS system that integrates with PayPal (or your preferred payment system). I am still looking for one. When I find one I'll update this post.
Having a PayPal account as a merchant or a business requires some extra paperwork. In the case of Australia, you have to submit your ASIC issues certificate of registration and a signatory file authorizing a particular person in your company to be the 'user' of the account. This won't affect your ability to accept payments overall, but you will have a restriction on your account for how much money you can effectively process.  Once you get this verification done, those restrictions are lifted. It just makes sure they verify you as a business before they let release the billions you'll make on your game (yes that was a bit of sarcasm).
There can be challenges with getting PayPal to recognize the documentation you send in. For example, we submitted our company registration certificate, and a copy of a form they provide that you have to print and return on your own company letterhead. Well, they apparently didn't like them because we got this obscure message saying that they were illegible.  I can guarantee they were very 300 DPI legible. So we resubmitted them, and didn't hear back for a long time. I had to email their resolution center and get them to update the account. You will want to stay on top of this.
Social Media
I think that most of all you are going to need to pay attention to social media now. Twitter, Facebook, Instagram and potentially Pinterest. There is also a good Sub Reddits such as r/tabletopogamedesign, r/tabletop, r/boardgames and many others. You should be active on these.  Make sure you contribute to the community every day. Your goal should be to pick up one new follower on one or more of the social media sites every day.
I believe that there is even a case now for considering Kickstarter, Indiegogo etc as social media platforms. You don't have to be running a campaign to be involved with that community. Back projects, be active in the forums and comments for your projects.
For more social media platforms such as Facebook and Twitter, or Instagram, you need to become a business entity on the site. For things like Facebook, you can create a company page from a personal account. There are some company related questions to answer and you should list it as a company. You can do boosted posts Facebook ads etc from there. Open it up to communication and allow your potential customer to message you. When things start picking up, you will need to monitor this and respond so make sure you have time to do that.
Twitter is similar. You can create an account for your company. Or if you are an individual designer just use a personal account. But company accounts allow you to do more advertising, social reach tracking and other business related features. Tweeting is something that is fairly easy to do and only takes a few seconds. You might have to be creative with your prose though.
Instagram is perhaps the most interesting. You really need to make sure you set up your account as a company first. If you try to use a personal account to post business related stuff, or your email address is something like info@mycompany.com they will block your account without warning. Getting it unblocked is just shy of a miracle due to the non-customer facing support system they have. You can ONLY get that sorted out by using the app, and I discovered that their android app, and their web site don't work properly. (the button to upload your company ASIC certificate doesn't actually work in the Android app). So I had to send FB messages and tweets for a while then I got a magic email out of the blue from them. It finally worked but it was a very difficult thing to get done.
Delays
In a lot of cases while you do this, you aren't writing blog posts, designing games, or even playing them. This means there are delays to those aspects of what you really want to be doing. Fortunately, for the most part once you have these things set up, they tend to stay set up. This is why when you choose a web hoster, make sure they are reliable and that their support is really good. Our most significant delay was because our last hoster had a terrible support system.
I know my way around web technologies, and I had been trouble shooting our site to find out why the search engines could index it. Even when using the various webmaster tools, submitting the sitemap, and having it test the URL directly, it kept returning a 404 error, which means it couldn't find the home page. This is a significant problem. I had checked the robots.txt file and all the other switches that can make this happen. The only one that was left was that the reverse proxy settings on the network were disallowing this. That is in your hosters control, not yours. So I raised a high priority support ticket to get it fixed.
I didn't hear back for 24 hours. So I responded to my own ticket asking for an update. Still no response for another 24 hours. I got on live chat with them, and they said that every time you touch the ticket, it moves it to the back of the queue. That was alarm bell #1 for me. A support or ticket tracking system should never work this way. It indicated to me that their systems were kludged together and they didn't know how to use them.
To make a long story short, it was over two weeks before anyone in support was able to get back to me after the ticket had been "escalated" three different times. You can't run a website, much less a business that way. By the time support had gotten back to me asking me what the problems was, I had already changed hosters. So here we are, all up and running and the site is indexed properly.
Moving On
So now that most of the systems are in place, it's time to get back to the work of games. There are a lot of things to do and systems to set up. We haven't even talked about getting connected with suppliers, manufacturers, advertising things like pins for conferences etc. At some point you'll need to get flyers or documents printed and banners if you want to go to conferences. I think that a conference preparation write deserves its own post.
Hopefully some of this helped you. I'm sure there's things I forgot and if you have suggestions or your own stories post them in the comments.  I'm always looking for ways to make things run smoother.